PANEER BUTTER MASALA RECIPE:
Paneer Butter Masala is a rich and delicious gravy. It is also known as butter paneer. It is made by using finely ground onion and tomato puree, adding cashew nut paste to give a thick and creamy texture to the dish. I tried this recipe but it came out super yummy. Furthermore, instead of paneer, we can substitute it with mushrooms, boiled eggs, and chicken.
Ingredients 
Fresh paneer, Cashew nut Paste, onions, tomatoes, ginger garlic paste, red chili powder, coriander powder, garam masala, turmeric powder, Kasuri methi, sugar, fresh cream, Kashmiri chili powder, salt to taste, butter, cloves, fennel seeds, cumin seeds, bay leaf, cinnamon, cardamom.
Serving Ideas:
Paneer masala is rich, creamy dish, it goes well with pulao, jeera rice, ghee rice, coconut milk rice, or even with cooked basmati plain rice too. Or if you don't want to have it with rice it can also be accomplished with butter naan, roti, poori, or kulcha.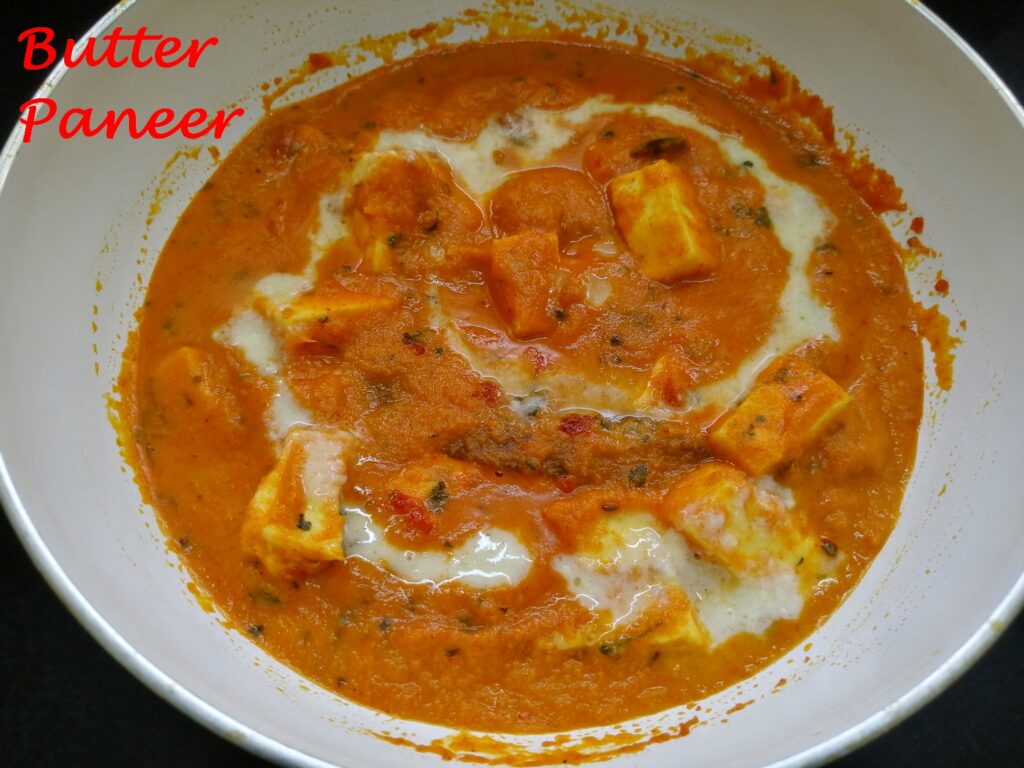 Pro Tips:
Paneer butter masala has got a silky smooth and creamy texture, so we need to blend the onions, and tomatoes into a super smooth puree and then strain it with the help of a strainer.
For a cream, we can use soaked and blended cashew nuts paste or almond paste, or even we can use poppy seeds paste or sesame seed paste too. Recently I found out that even we can use pumpkin seed paste too which is high in nutrition and health benefits.
To get a nice texture and color it is good to add ripe red tomatoes, it not only gives nice color but also a sweet and tangy taste to the dish.
OTHER TIPS:
Adding nuts and seeds paste gives the dish a thick and creamy texture to the dish.
We can add paneer cubes directly to the dish or even fried paneer also goes well.
If you are using any dairy cream in the dish, avoid cooking after adding cream.
To get a nice flavor to the dish is good to use butter than oil, salted or unsalted which is available at home.
Adding Kasuri methi to the dish at the end gives a nice aroma and flavor to the dish.
Finally, there are other recipes you may like breakfast recipes, side dish recipes, millet recipes, chutney, snack, cake recipes, salad, desserts, rice recipes, nonveg recipes, meals recipes, sambar and rasam, festive recipes, gravy, and curry, and the link is given above.
If you have any questions about this Recipe name do connect with me through Mail: yummyashasvlogs@gmail.com. Even you can follow me on Instagram, and Facebook, Do not forget to share your opinion in the below comment space.
How to make Paneer Butter Masala Recipe: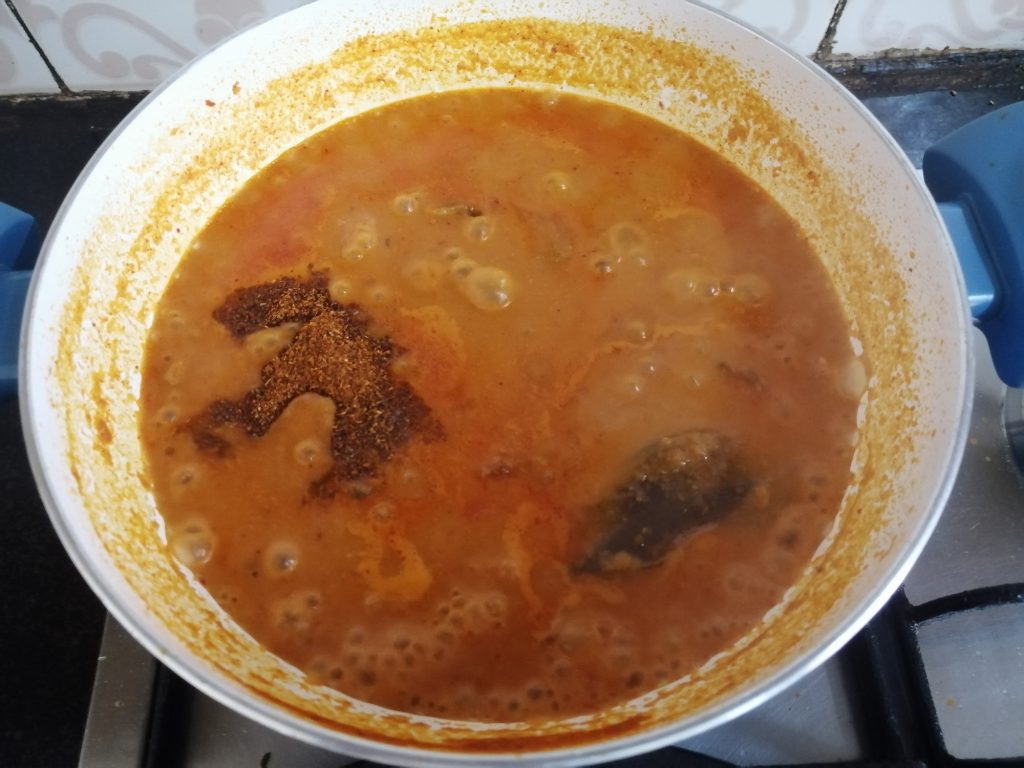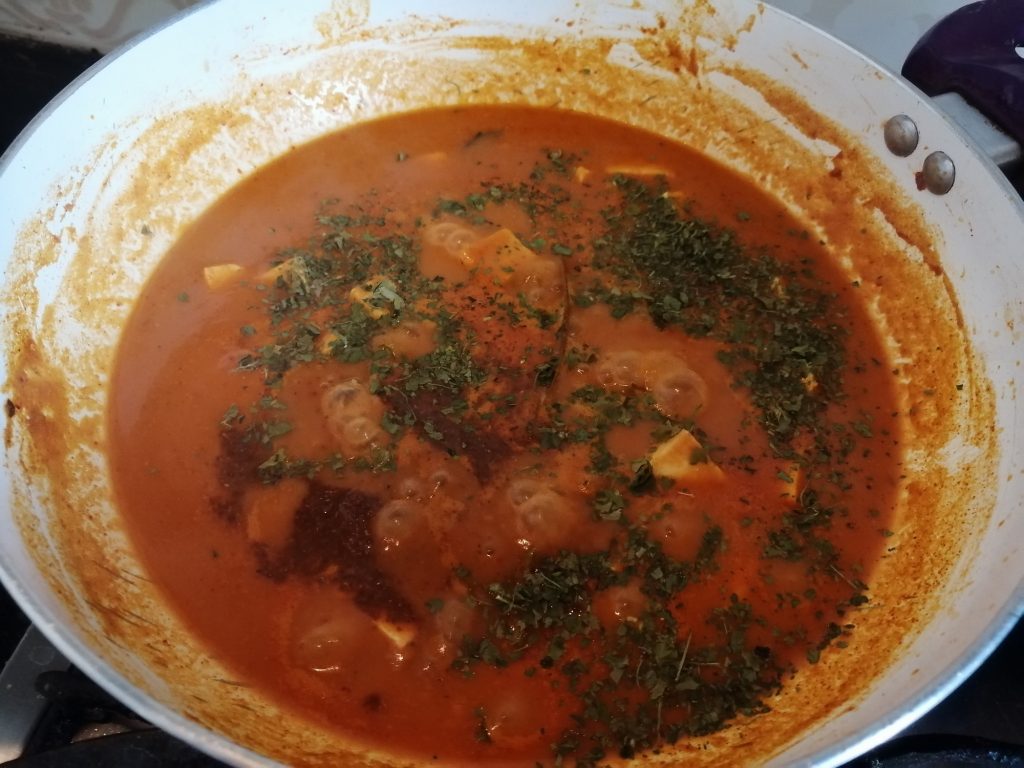 FAQ:
What is paneer made of?
Paneer also known as Indian cottage cheese, is made from cow or buffalo milk. It is prepared by curdling milk by adding lemon juice, vinegar, citric acid, and yogurt to hot milk to separate the curds from the whey.
Once it cools down, strain it with the help of a cotton cloth or muslin cloth. Then rinse the collected paneer in cold water 2 to 3 times. Later drain off the excess water. Finally, it's ready.
What is the difference between paneer tikka and paneer masala?
Paneer tikka masala is made by marinating paneer and veggies, later cooked on skewers, and then added to the gravy whereas in paneer masala paneer cubes are added directly or fried and then added.
Which is better paneer butter masala or Kadai paneer?
Kadai paneer is prepared by adding freshly ground masala and is much Spicer. Whereas paneer masala is a less spicy, rich, sweet, and creamy flavor.
COOKING TIPS:
What is the best way to cook paneer?
You can add directly to the dish or pan fry or marinate and then add to the dish or marinate and fry like tikka.
Should I soak paneer before cooking?
Even we can soak paneer for 3 to minutes and then add it to the gravy or dish, it makes the paneer soft and moist. But do not soak it for more than 10 minutes, it may break and loos its texture and taste.
Why Paneer becomes hard or rubbery:
If the paneer is cooked for a longer time, then it will become hard and rubbery.
WHEY WATER:
What to do with the water left after making cheese?
It is called Whey which is a slightly yellowish liquid that we get while preparing cottage cheese (paneer). This liquid is loaded with natural proteins and has got several health benefits.
What are the uses of Whey water?
Use it to knead the chapati or roti dough.

We can add it to gravies or curries.

We can use it to cook rice dishes, like pulao, biryani, etc.

It can be used for baking.

Pour it into the plants.
Paneer Butter Masala Recipe
Paneer Butter Masala is a rich and tasty gravy recipe. It goes well with parathas, roti, poori, jeera rice, coconut rice.
200 grms Paneer
2 Big Onions
3 Medium Tomatoes
15 Cashew nuts
3 tbsp Butter
1 Bay leaf
½ tsp Cumin seeds
½ inch Cinnamon sticks
2 Green cardamom
2 Cloves
¼ tsp Fennel seeds
⅛ tsp Turmeric powder
½ tsp Coriander powder
½ tsp Red chili powder and Kashmiri chili powder
½ tsp Sugar
2 tbsp Fresh Cream
Salt to taste
1 tbsp Kasuri methi
1¼ cup Water (As required)
Firstly take a hot water in a bowl and add in tomatoes, cashew nuts. Then cover the lid and keep it aside for 15 minutes. Later remove the skin of the tomatoes. Cut them into pieces.

Then transfer tomato pieces, cashew nuts into mixer jar and ground them into smooth paste.

Now heat a pan and add in butter, all spices, ginger garlic paste. Saute till the raw smell goes.

Then add in chopped onions. Saute till they become translucent.

Then add in turmeric powder, coriander powder, red chili powder. Stir and give a mix so that the spice powders are sauteed.

And then add in grounded tomato cashew nut paste. Saute this mixture on a low flame or the oil releasing from the sides.

Then add one cup of water. Allow the gravy simmer for 5 to 8 minutes on low flame.

Season with salt as required. Then add in sugar, kasuri methi, garam masala. Give a mix.

Finally add in fresh cream and switch off the flame. Garnish it with freshly chopped coriander leaves.