EGGLESS WHEAT BANANA MUFFINS RECIPE
EGGLESS WHEAT BANANA MUFFINS RECIPE
Super Soft Eggless Wheat Banana Muffins is healthy and tasty easy muffin recipe and best tea time snack too. These muffins are same as Banana Bread. It is a soft, and spiced up with a net mug and cinnamon powder with a lavish sprinkle of (chocolate chips affiliate link)on top. Ripe bananas are the main ingredients of this recipe to get started with.
Than cakes muffins or cupcakes are quick and easy to prepare, easy to carry, and taste just as good. It can be prepared with leftover ripe bananas.
Ingredients: (Affiliate links given below)
Ripe banana, wheat flour, brown sugar, thick curd, baking powder, baking soda, pinch of salt, cinnamon powder, pinch of nut meg powder, butter, choco chips.
Banana:
Bananas are one of the most popular and common fruits worldwide. They are filled with essential fiber and other nutrients required for our body. Bananas are good for digestion and for weight loss. Further, it is better to use ripe bananas, as they are much easier to incorporate with the cake batter, they are also natural sweeteners, and also gives nice flavor to the cake.
Wheat flour:
Wheat flour contains level of fiber content than in all purpose flour, which is healthier too . So, I usually try to make cakes with wheat or ragi flours.
Brown Sugar or Country Sugar:
We can use brown sugar instead of white sugar, or even we can use powdered jaggery too. Further, it tastes different from normal cakes.
Thick Curd:
Curds is a excellent substitute for eggs and milk. It gives soft texture to the cake.
Baking Powder or Baking Soda: 
It helps the batter to rise when baked. It is one of the important ingredients while baking. So, it is better to use good quality baking powder or baking soda. 
Butter:
Adding good quality butter makes the cake soft and fluffy. Even we can add vegetable oil too instead of butter.
Cinnamon powder:
 Is a spice which contains lots of medicinal value and also rich in antioxidants. It gives nice flavor and taste to the cake.
Choco Chips:
They are small chunks of Dark Chocolate. Further, they are used as a topping for decoration.
Storage:
How long is banana muffins good for?
We can keep in room temperature of one day. It is better to refrigerate it and use for up to 2 to 3 days.
Storing muffins in fridge?
Should be kept in airtight container and properly sealed.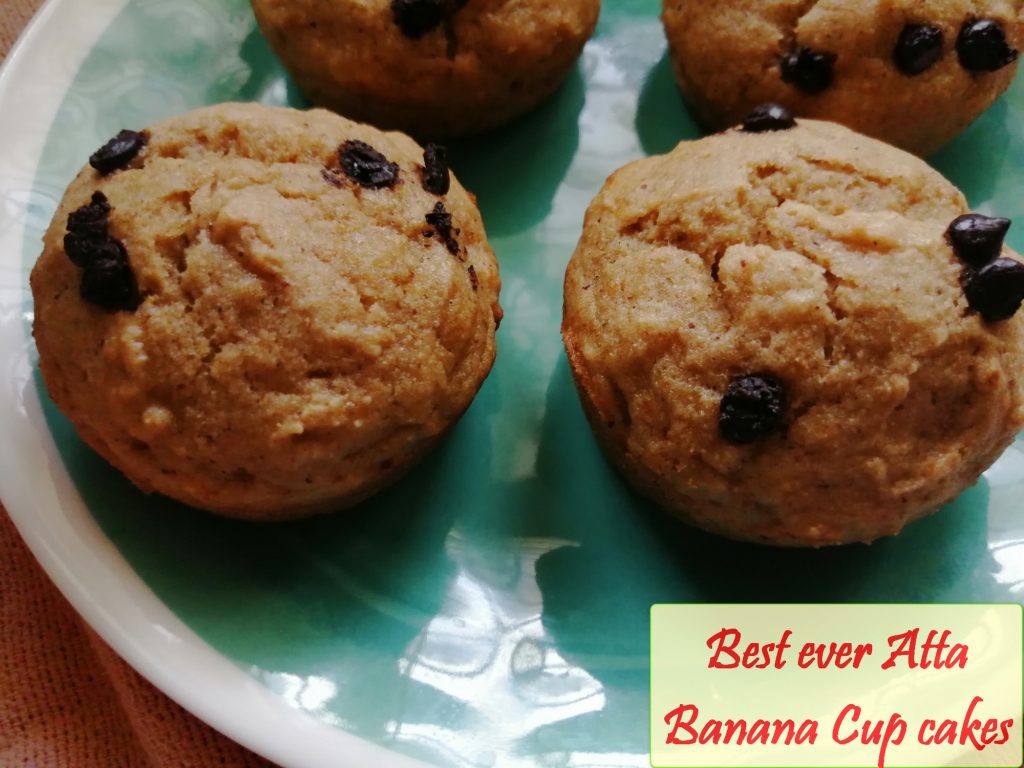 FAQ:
Which banana is good to use?
It is always better to use ripe bananas, as it gives a nice flavor, are a natural sweetener, easy to mash.
How to make a banana paste?
Firstly, peel the outer layer and cut them into pieces, place them in a mixer jar, until soft and smooth.
why are my banana muffins dry?
Adding too much flour than required, further if you add less flour, then cake will become wet. Use good quality flour for best result.
why do my banana muffins sink?
When it comes to baking measurement of ingredients is very important. Adding less or more baking powder or soda may result in sinking.
why do my cakes dense?
Overmixing may result in dense cakes, further mix the ingredients gently. The more you mix, the more gluten will develop. Then the batter becomes tough and rubbery.
why my banana muffins don't rise?
Adding too much flour and if it is not properly baked. And one more reason if baking powder or soda is not added.
Can we make cakes using Wheat Flour?
Yes, we can make cakes using wheat flour instead of using maida or all purpose flour. Taste may vary but healthy way to eat cake. We can eat guilt free.
For other recipes: Yummy ashas kitchen, Breakfast Recipes, Meals Recipes, Rice Recipes, Rasam and Sambar Recipes, Side dish or Palya Recipes, Gravy and curry Recipes, Non-Veg Recipes, Millet Recipes, Podi or Powder Recipes, Chutney Recipes, Appetizers, Desserts and drinks, Cakes and Baking, Salads, Others.
If you have any questions about this Recipe name do connect with me through Mail: yummyashasvlogs@gmail.com. Even you can follow me on Instagram, and Facebook, Do not forget to share your opinion in the below comment space.
How to make Super Soft Eggless Banana Cupcakes: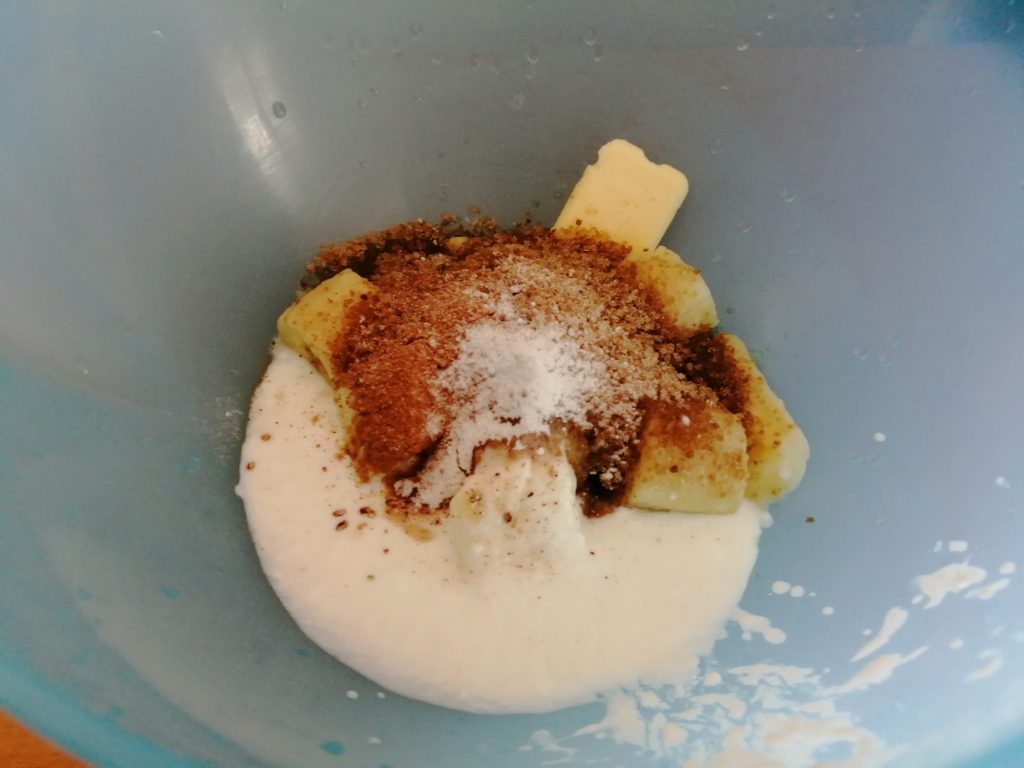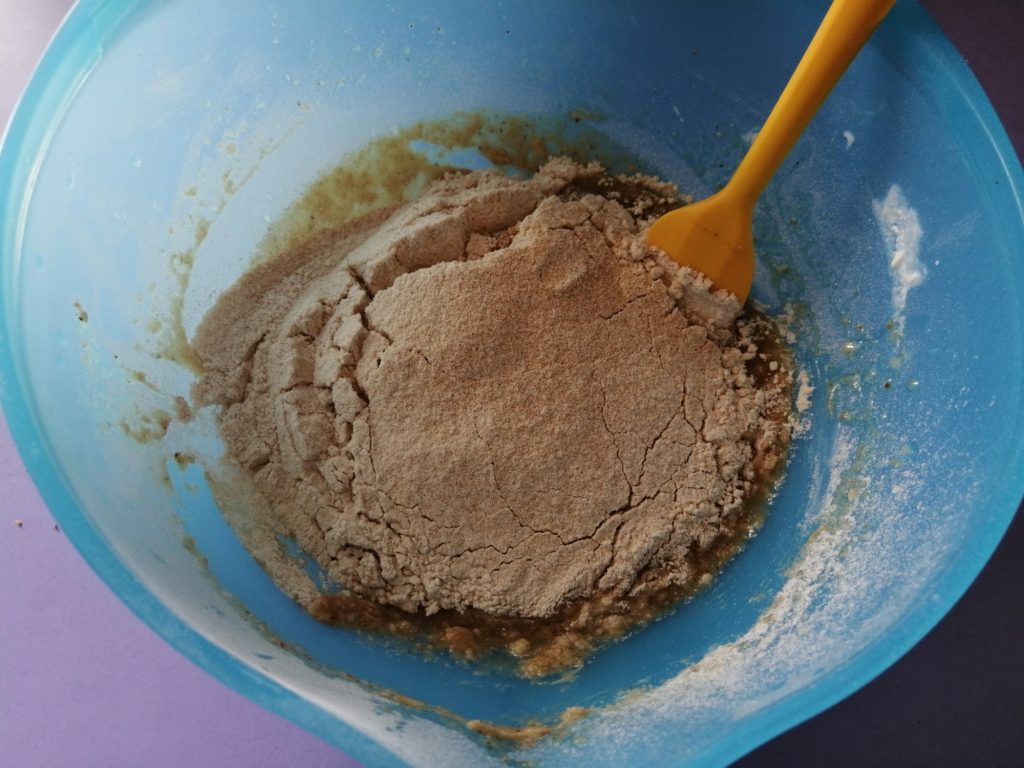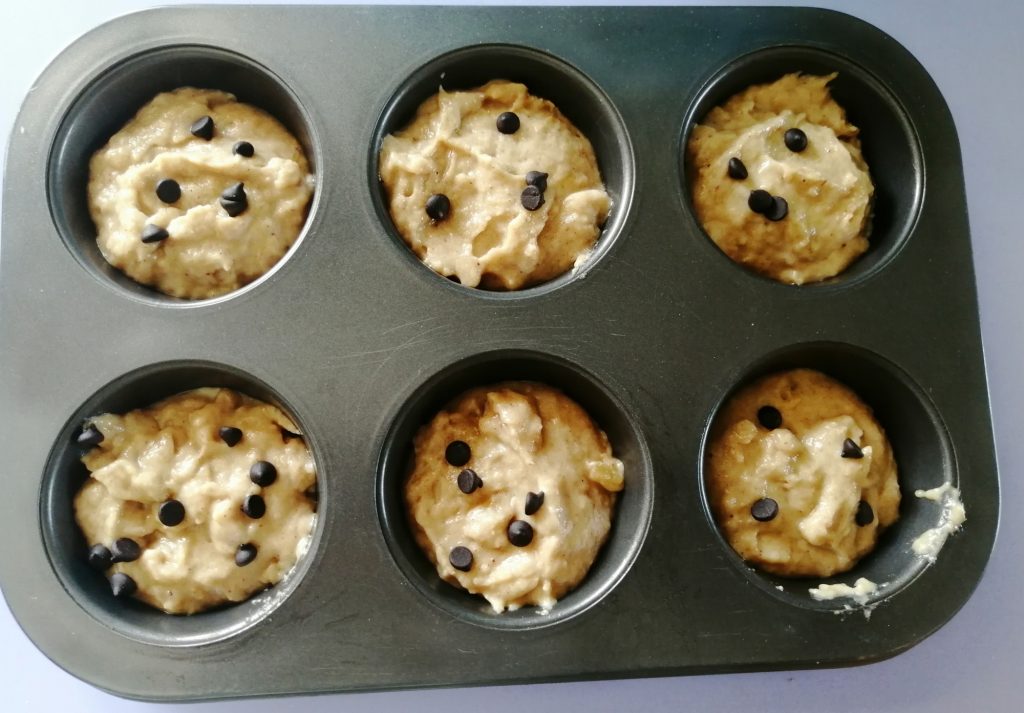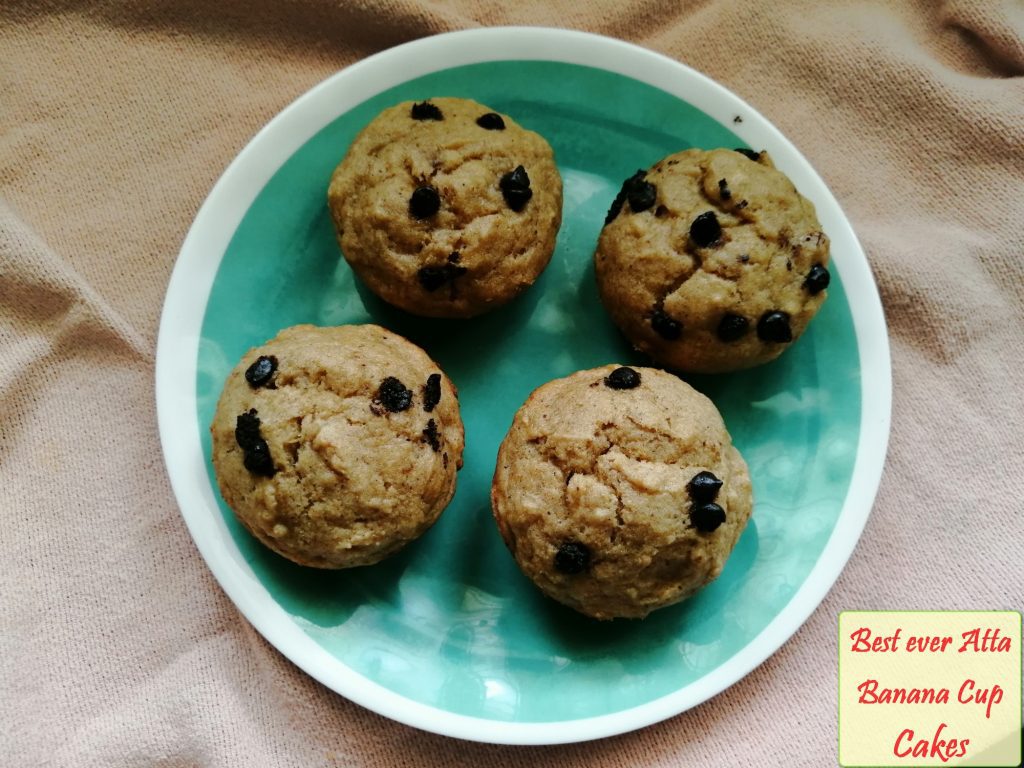 EGGLESS WHEAT BANANA MUFFINS RECIPE
Super Soft Eggless Wheat Banana cupcakes is  healthy and tasty simple muffin recipe and best best tea time snack too. It is prepared with leftover ripe bananas.
Ingredients
2

Ripe banana

2

tbsp

Butter

1

cup

Wheat flour

½

cup

Brown sugar

½

cup

Thick curd

½

tsp

Baking powder

¼

tsp

Baking soda

½

tsp

Cinnamon powder

Pinch of nutmeg powder

Pinch of salt

choco chips
Instructions
Take a mixing bowl and add in ripe bananas, butter, sugar, pinch of salt, curd, cinnamon powder and nutmeg powder.

2 Ripe banana,

½ cup Brown sugar,

½ cup Thick curd,

½ tsp Cinnamon powder,

Pinch of nutmeg powder,

Pinch of salt,

2 tbsp Butter

And then sieve wheat flour, baking soda, baking powder and give a mix without any lumps.

1 cup Wheat flour,

½ tsp Baking powder,

¼ tsp Baking soda

Now grease the cup cake pan and pour the cake batter and then pre heat the oven for 8 minutes and bake them under 180 degree Celsius for 15 minutes.

Finally sprinkle some choco chips and the super soft wheat banana cup cakes are ready to serve.
We are sorry that this post was not useful for you!
Let us improve this post!
Tell us how we can improve this post?
---
---