MILLET BISI BELE BATH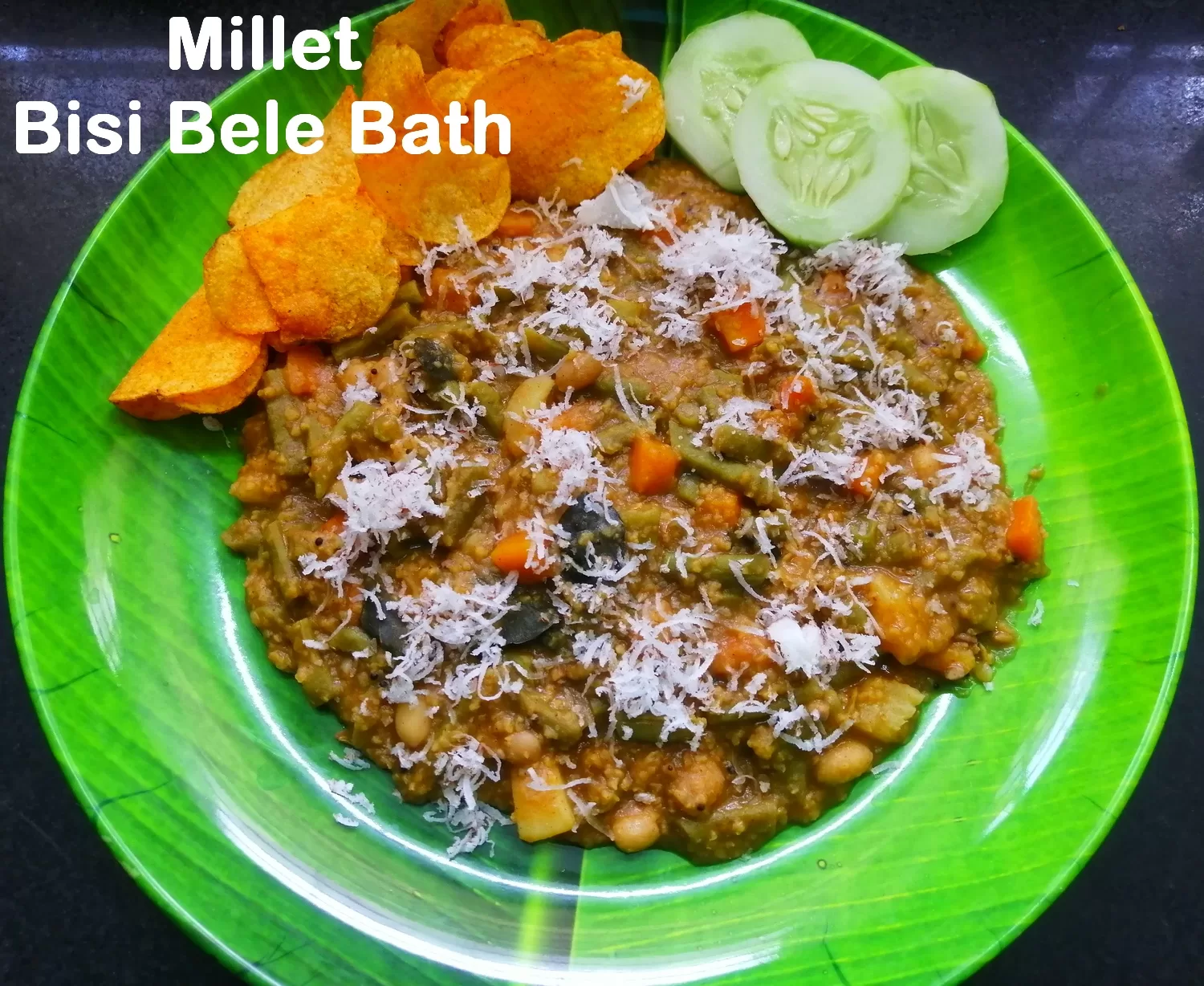 MILLET BISI BELE BATH (SAAME | LITTLE)
Millet Bisi Bele Bath or Bisi Bele Huliyanna is a very traditional and delicious food. Later it is a spicy, rice-based dish along with spices, vegetables, and dals. Here in Kannada "Bisi" means Hot, "Bele" means Lentils or Dal, and "Bath" means a mixture of all rice, dals, spices, and vegetables.
Further, it's from Karnataka India and it is said to originate from Mysore. It is served hot with boondi, potato chips, onion pakora, papad, and salad.  
MILLETS:
Small-grained warm-weather cereals belonging to grass family. It has got many health benefits. Little millet helps lower cholesterol and improves heart health. Little millet contains slow digestive carbs and dietary fiber that takes a long time for glucose to enter the bloodstream and help control blood sugar levels.
  I try to prepare once a week for breakfast as it is very healthy to have as breakfast. You can add all kinds of vegetables. I usually add beans, carrots, capsicum, peas, peanuts, cauliflower, potatoes, chow etc.  
TYPES OF MILLET:
Jowar (Sorghum), Bajra (Pearl Millet), Ragi (Finger Millet), Jhangora (Barnyard Millet), Barri (Proso or Common millet), Kangni (Foxtail), Kodra (Kodo millet), Little millet (Saame), Browntop Millets (Andu Korralu).  
INGREDIENTS:
Fresh vegetables, oil, salt to taste, little millet, red chilies, Bisi bele bath powder, toor dal, ghee, tamarind juice, jaggery, coriander leaves, mustard seeds, curry leaves, hing.  
FAQ:
Is millet should be soaked before cooking?
It is very important to soak the millet for at least 2 to 4 hours or overnight before cooking. Soaking helps to break down the phytic acid in them, further which makes digestion much easier.  
How do you soak and cook millet?
Firstly rinse the millet for 3 to 4 times in water and then drain off the water. Secondly add in fresh water, close the lid and allow it to soak. Once soaked then it's ready to cook.  
How long should millet be soaked before grinding?
If you planning to make idli or dosa, it is always better to soak for at least 4 to 8 hours or overnight. And then we can grind it into a smooth batter.  
What is the ratio of water to millet?
I usually add 1 cup of millet, and 3 cups of water and pressure cook it for 3 to 4 whistles.
For other recipes: Yummy ashas kitchen, Breakfast Recipes, Meals Recipes, Rice Recipes, Rasam and Sambar Recipes, Side dish or Palya Recipes, Gravy and curry Recipes, Non-Veg Recipes, Millet Recipes, Podi or Powder Recipes, Chutney Recipes, Appetizers, Desserts and drinks, Cakes and Baking, Salads, Others.  
If you have any questions about this Recipe name do connect with me through Mail: yummyashasvlogs@gmail.com. Even you can follow me on Instagram, and Facebook, Do not forget to share your opinion in the below comment space.  
HOW TO MAKE MILLET BISI BELE BATH: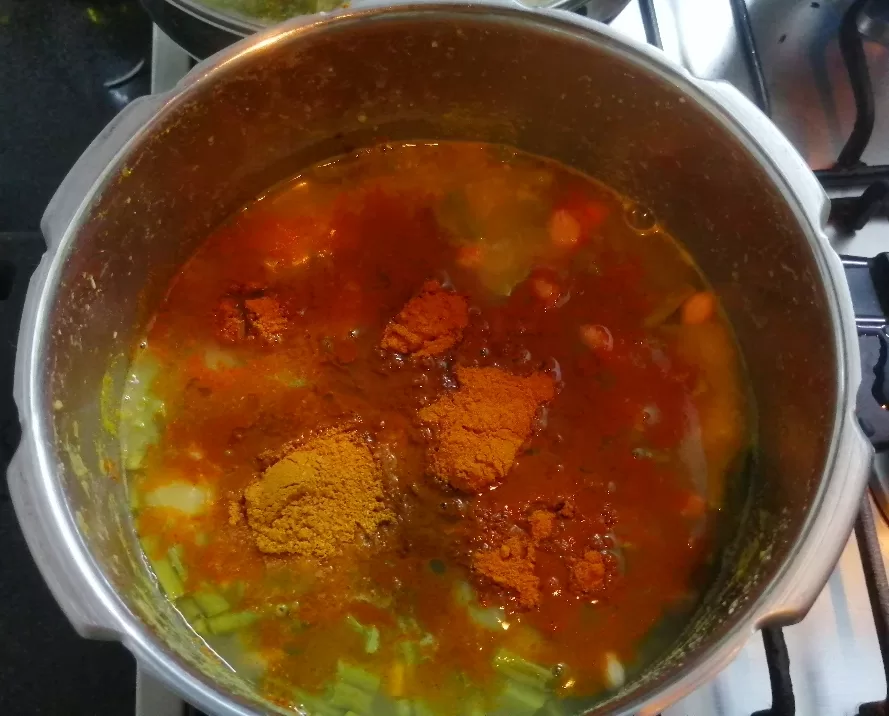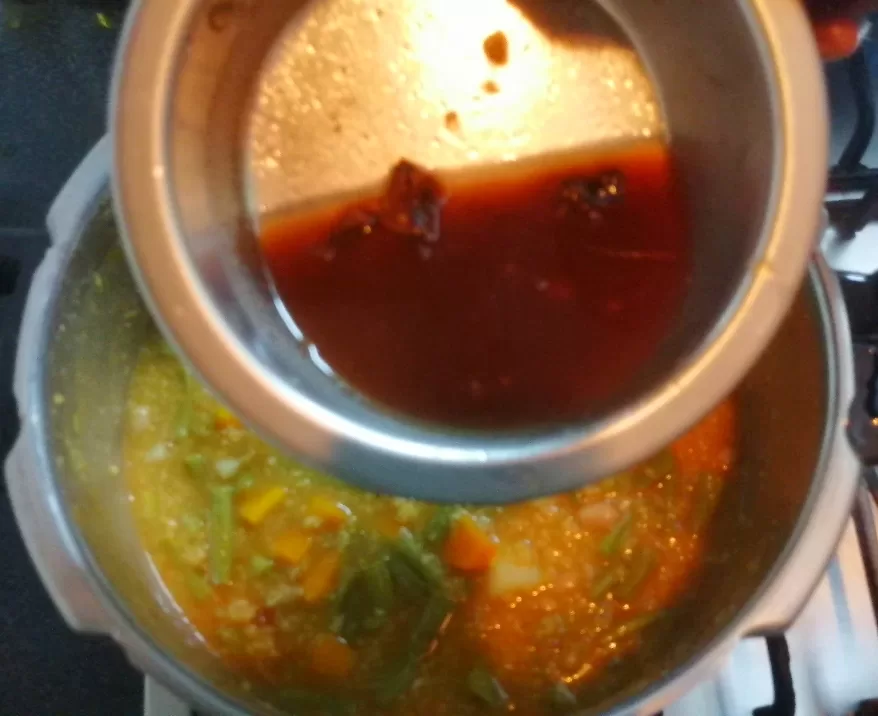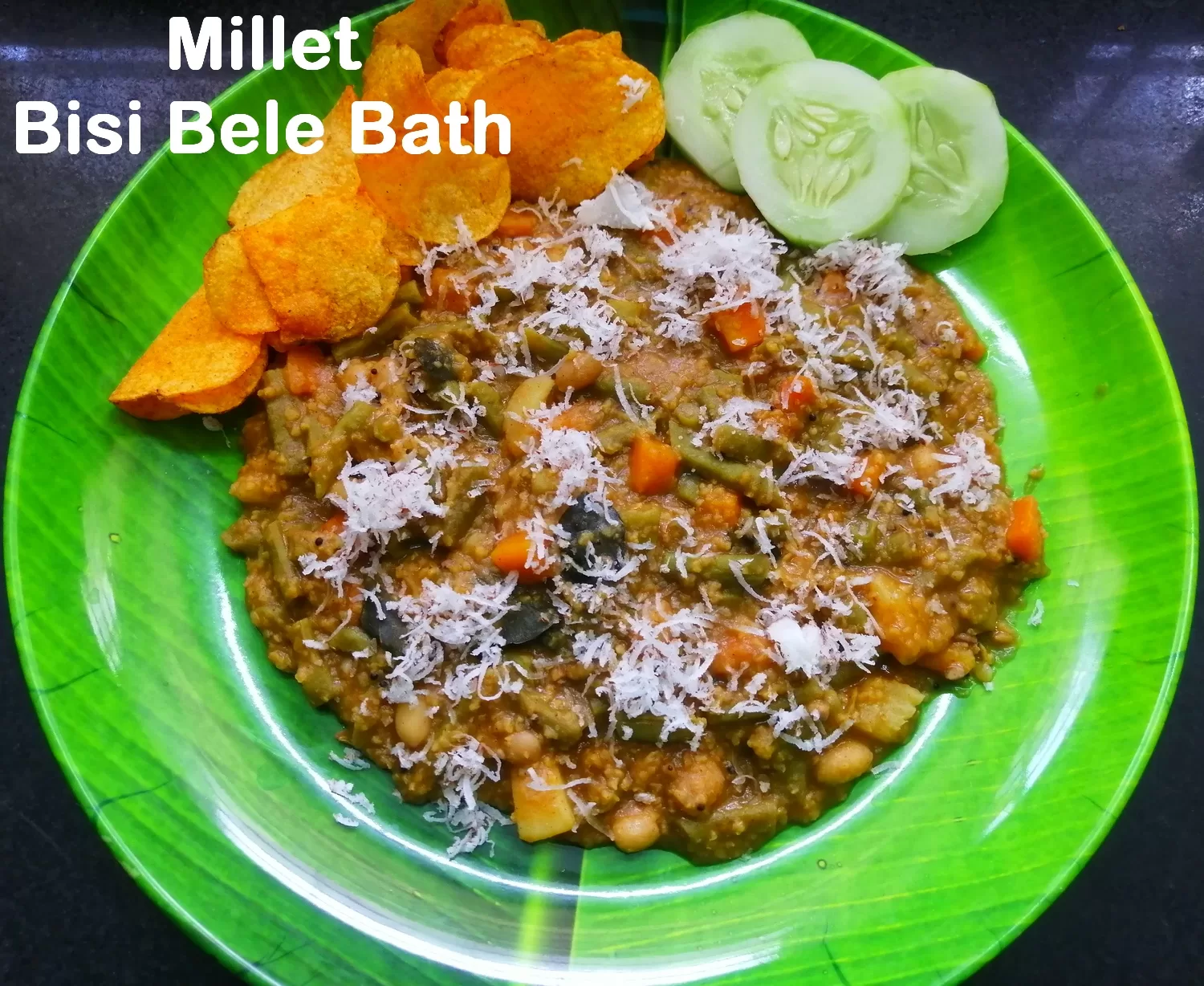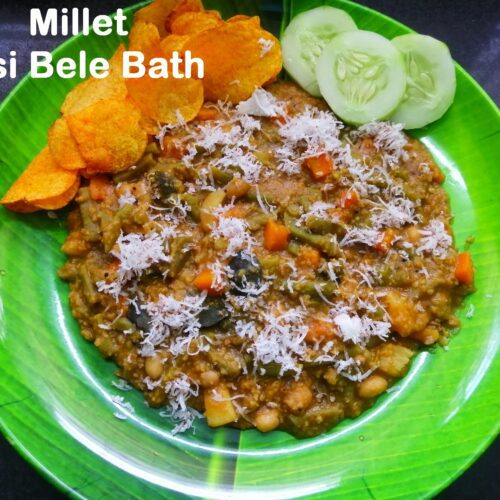 Millet Bisi bele bath
Saame or Little millet bisi bele bath is a very healthy and delicious recipe. You can add all kind of of vegetables of your choice.It can served with boondi or pakodas.
Ingredients
¼

cup

Saame/Little millet

¼

cup

Toor dal

1

cup

Vegetables

2

tbsp

Bisibelebath powder

1

tbsp

Tamrind juice

1

tsp

Ghee

1

tbsp

Jaggery

2

tbsp

Coriander leaves
For Seasoning
1

tbsp

Oil

½

tsp

Mustard

1

spring

Curry leaves

2

nos.

Dry chilli

¼

tsp

Hing
Instructions
Firstly add in water, soaked millet and toor dal. Firstly add in water, soaked millet and toor dal. 

Then add in salt to taste, turmeric powder. Close the lid and pressure cook it for 3 whistles..

After pressure cooking, again add in the cut vegetables. 

Pressure cook it for another 2 whistles.

Then add in bisi bele bath powder or even we can add sambar powder too.

Add in tamarind juice. And give a mix and allow it to boil.

Then add in jaggery and prepared seasoning. Give a mix.

Finally the Bisi Bele Bath is ready to serve.

At the end garnish it with grated coconut and 1 tsp ghee.

Garnish it with coriander leaves and finally Saame/Little millet bisibelebath is ready to serve with boondi or pakodas.
Notes
At the end add jaggery and ghee for extra taste and flavor.
We are sorry that this post was not useful for you!
Let us improve this post!
Tell us how we can improve this post?
---
---