Bottle gourd is also known as calabash, white flowered gourd, lauki. It belongs to the gourd family. It has a light green smooth skin and a white inner flesh. Usually the round fruits are called Calabash gourd and the slender long fruits are called Bottle gourds.
Organic Jowar is gluten free, easy to digest and provides more engery for the calories consumed. It is One of the healthy millet.
Finally there are other healthy break fast recipes are available and here is the link given above, hope you all like it.
Healthy Bottle gourd, Rice and Jowar Flour Roti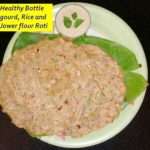 It is very healthy and tasty roti recipe. It is one of the best breakfast recipe. It goes well with peanut and coconut chutney.
1 Cup Grated Bottle gourd
1¼ Cup Rice Flour
½ Cup Jowar Flour
1 Onion chopped
½ tsp Chili powder
2 Spring Curry leaves
¼ Cup Dill leaves (Optional)
½ tsp Cumin seeds
1 tbsp Roasted peanuts
Salt (As per taste)
Water (As required)
Take a Bowl add in Rice and Jowar Flour.





Add in cumin, salt and roasted peanuts.





Add in Chopped curry leaves, dill leaves and onion.





Add in grated bottle gourd.





Add in Chili powder.





Mix well. Add required water.





Make small balls and flatten it on banana leaves or cotton wet cloth using oil and water.





Cook roti both the sides on the tawa.





Roti is ready to serve.




You can also add in coriander leaves, grated carrot, chopped coconut.
Add ghee for extra taste.