CHANA DAL PAYASAM RECIPE | KADALAI PARUPPU PAYASAM
Is a traditional and healthy dessert recipe. And it is very simple and easy to prepare with fewer ingredients. Furthermore, it served as Prasada to devotees in the temple. 
ABOUT PAYASAM
It is also known as kheer, kheeri, payesh, payasam or phirni is a sweet dish made by using boiling milk or coconut milk, sugar or jaggery, cardamom, cashew nuts, raisins, or other dry fruits of your choice.
Other ingredients like rice, poha, vermicelli, and millet dals are used for making this yummy delicious sweet.  It is typically served as a dessert.
Ingredients:
Chana dal:
Is also known as Chickpeas (chana) and the split Chickpea lentils. In Telugu (Senaga Pappu), Tamil (Kadalai or Kadala Paruppu).
 It is dried and used for sambar, curries, and side dishes.
Poha:
Also known as pauwa, sira, chira, or avalakki. It is flattened rice. It can eat raw by soaking it in plain water or milk, along with salt or sugar, or jaggery to taste.
Or it can eat seasoned with oil, nuts, mustard seeds, chopped onions, curry leaves, green chilies, and salt to taste.
Jaggery:
It is a traditional cane sugar consumed in India. Later it is extracted from cane juice, date, or palm sap. And can vary from golden brown to dark brown. 
We can make a variety of dishes like payasam, Pongal, chikkies,etc. And it is the best replacement for sugar.
Cardamom:
An Indian spice is known for its intense aroma and its use in traditional medicine. And it has got a herbal warmth like a fragrant like mint and fennel seeds.
Furthermore, it is used in desserts, biryani, pulao, chicken and mutton curry, etc.
Poppy seeds:
They are tiny seeds, kidney-shaped, have a pitted surface, and used in ancient medicines. It is still widely used in many countries. Furthermore can be used whole or ground into a meal as an ingredient in many foods, especially in desserts, payasam, curries, baking, etc.
FAQ:
Is kheer and payasam same?
Yes. That is usually flavored with rice or dal, sugar or jaggery, cardamom, nuts, etc.
What it is called in English?
It is called South Indian Pudding or rice or dal pudding.
 Does it taste like yum?
It is flavored with cardamom, jaggery or sugar, rice, dals, coconut milk or milk, condensed milk, and nuts. It tastes like pudding very delicious and flavorful.
How long does it last?
Should be kept in an airtight container and can stay well for 1 to 2 days if properly refrigerated.
PRO TIPS:
Do you eat this sweet hot or cold?
It can be served hot and even chilled in the refrigerator, garnish it with fried nuts and then serve.
How do you thicken it?
Firstly cook for a longer time to thicker, secondly, we can add thick coconut milk or cashew nut, almond paste, or seed paste to get a thick consistency.
Can we put hot kheer in the fridge?
We should never keep hot items in the fridge. So, when it comes to room temperature then it is the right time to refrigerate it.
For other recipes: Yummy ashas kitchen, Breakfast Recipes, Meals Recipes, Rice Recipes, Rasam and Sambar Recipes, Side dish or Palya Recipes, Gravy and curry Recipes, Non-Veg Recipes, Millet Recipes, Podi or Powder Recipes, Chutney Recipes, Appetizers, Desserts and drinks, Cakes and Baking, Salads, Others.
If you have any questions about this Recipe name do connect with me through Mail: yummyashasvlogs@gmail.com. Even you can follow me on Instagram, and Facebook, Do not forget to share your opinion in the below comment space.
HOW TO MAKE CHANA DAL PAYASAM: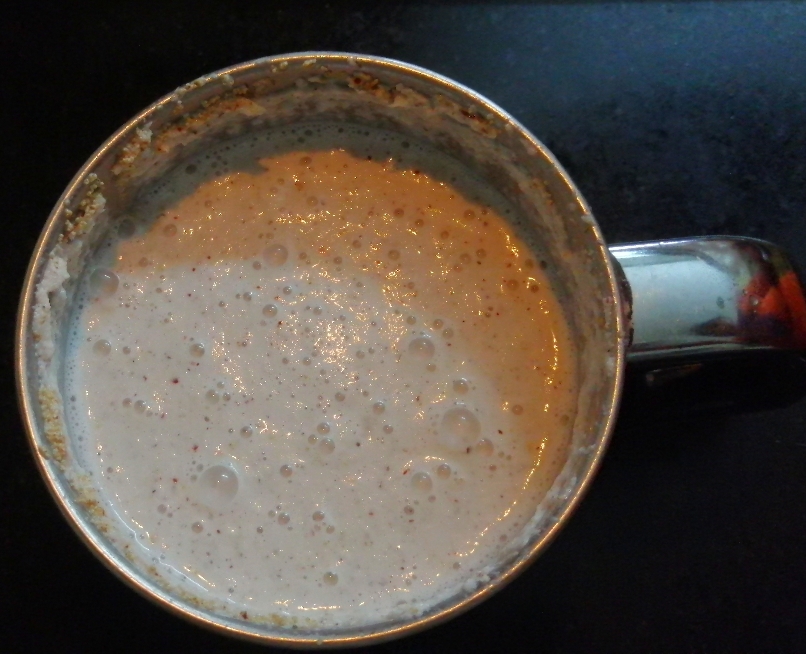 CHANA DAL PAYASAM RECIPE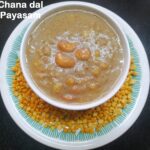 Is a traditional and healthy dessertrecipe. It is very simple and easy to prepare with fewer ingredients. Furthermore,it served as Prasada to devotees in the temple.
Deep pan
Small Pan
Mixer jar
½ cup Chana dal
½ cup thick Poha
½ cup Fresh Coconut pieces
2 Cardamom
1 tbsp Poppy seeds
2 tbsp Oil
6 to 8 Cashew nuts
8 to 10 Raisins
1 cup Jaggery surup (Add as per taste)
Firstly heat at water and add incleaned chana dal.

Then add in cleaned poha.

Close the lid and pressure cookit for 4 whistles.

In a mixer jar add in freshcoconut and cardamoms.

Later add 1 tbsp of poppy seedsand ground it into a smooth paste.

Once the dal is cooked completely.

Add in the ground paste and givea mix.

Later add in jaggery syrup and allow it to boil for 2 to 3 minutes.

Heat a small pan and add in oil, cashew nuts, raisins and fry till golden brown.

Add it to the payasam and give a mix.

Finally, Chana dal payasam is ready to serve.